Getting Started
1) Install 'Growl for Windows'
Download and install from here: www.growlforwindows.com
You may also want mobile devices to receive notifications:
See more alternative Growl displays here.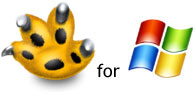 2) Install 'Growl for Excel'
Download from here: Install

3) Open Excel
Start a new workbook. In cell [A1] enter the number '1'. In cell [B1] enter:
=GrowlIf(A1 = 2, "Test")
Then change cell [A1] to '2'. You should see your 'Test' alert broadcast.