Growl for Excel
---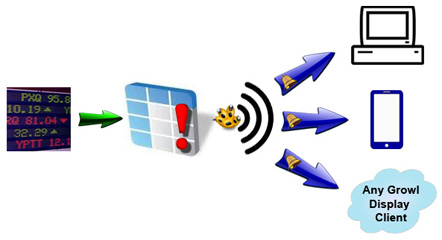 Overview
'Growl for Excel' lets you broadcast messages from your Excel spreadsheet to:
Your own computer's taskbar
Other computers
Mobile phones and other mobile devices
If your models use real-time data (stock market feeds, instrumentation add-ins) and you are not at your PC, it is helpful to have Excel alert you if an important condition occurs.

By interfacing with the widely used Growl tool, you can broadcast a message describing the alert. Leave the spreadsheet running unattended. Get a notification on your cellphone or have it popup on another PC.
Features:
Formula Based: No VBA. No configuration needed in Excel. Alerts triggered by a simple formula.
Multiple Alerts: Broadcast as many messages as you'd like for any variety of conditions
Controled Broadcast: Alerts are sent only once when the threahold is past. They will not repeat.
Requirements:
Growl for Windows: www.growlforwindows.com
Microsoft Excel: Version 2003 or later
Windows: XP or later, .NET Framework v4.51 or later
Continue with Getting Started
Discuss, Comments, Problems:
Forum